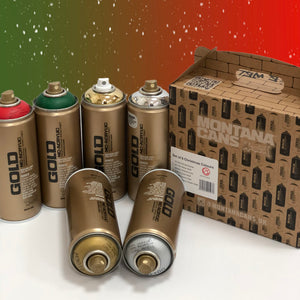 Montana GOLD is the perfect tool for all artists and creative workers. The specially developed Low-pressure system guarantees maximum accuracy to meet the highest requirements while giving professional results! High-covering and quick-drying acrylic lacquer. Montana GOLD allows for a new level of ease and control when painting with spray cans, with no cracking or colour bleaching. The Montana GOLD colour system has been completely overhauled and optimized by our dedicated team of artists and laboratory experts to make it perfect. With 200 matt acrylic colours, 2 metallic, 3 effect colours and 9 transparent colours possibilities, Montana GOLD offers one of the largest and most concise colour range available in spray paint. Montana GOLD can be applied on canvas, wood, concrete, metal, glass or even flexible surfaces.
LOW PRESSURE & HANDLING:
The low pressure system allows perfect handling. The level of control that can be achieved with this can has never existed before. The Montana Level Caps were precisely developed for the low pressure system allowing the most even and clean lines with the highest efficiency and accuracy. Spray widths from 0.4cm up to 25cm can be achieved depending on the users skill and experience. For perfect results we recommend the LEVEL Cap System in combination with Montana GOLD.
Christmas Set includes Silverchrome, Silver Matt, Goldchrome, Gold Matt, Shock Red, Shock Green.
Shipping not available on this item.